Alrighty, I need prices for these before they hit my sales thread, any help is appreciated
Baby Quackers- Has surface dirt, and the beginnings of cancer in a few places. She has a cancer spot in her NDS ear. Her hair is a little dry.
Baby Splashes- Surface dirt, a tiny black spot on her DS eyebrow (I can't tell if it's ink or cancer), light brush rub to her DS cheek, and on her NDS cheek there is a flat spot, almost as if she was dropped or stuck against something flat. This has affected the blush on that side.
FF Butterscotch- She has surface dirt, a cancer spot on her DS leg (visible in pic), her hair is a tad frizzy, and she rattles. Her tail is removable because of her loose washer, and she has some tiny knicks taken out of the plastic on her NDS feet.
Little Whiskers- Hair is still very pink, and a bit frizzy at the ends. She has a tiny bit of surface dirt, flawless symbols and eyes, she rattles too. I think she's missing the last plug in her NDS row, but the plug is so tiny that I'm not sure it ever held hair to begin with.
Seashell- Surface dirt, missing the very first plug in her mane, very nice otherwise though.
Spunky- She has surface dirt, and some faint lipstick residue on her mouth and eyes (I was able to get most of it off), and slight eye rubs. She still has some original curl.
TAF Sundance- Hair still changes color and still fairly pink, light rub to her DS eye, some surface dirt. Her hair is a little frizzy at the ends.
Zigzag- Some surface dirt and a couple small rubs to her symbols. Her tail is a little dry at the ends.
Sweet Pocket- I don't have a picture for this next one (I'm still cleaning her up), she's the blue haired version, with faded hair, surface dirt, some discoloration and the bee string is gone.
G3 Bowtie- Some surface dirt but nothing significant.
I also have this Fairy Tail bird and comb. I got them in a lot and I know NOTHING about them
I have no interest in them either. The bird has big-time staining, but her hair is nice and her paint is nice as well.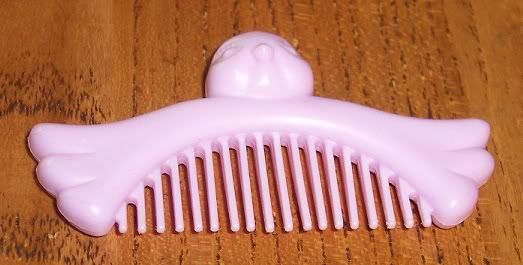 Thanks in advance!