Payment via Paypal or money order must be initiated within 7 days after I send you a total with shipping quote (sorry, no exceptions). I ship worldwide. Thanks for looking!
Breyer plush on ebay!
G3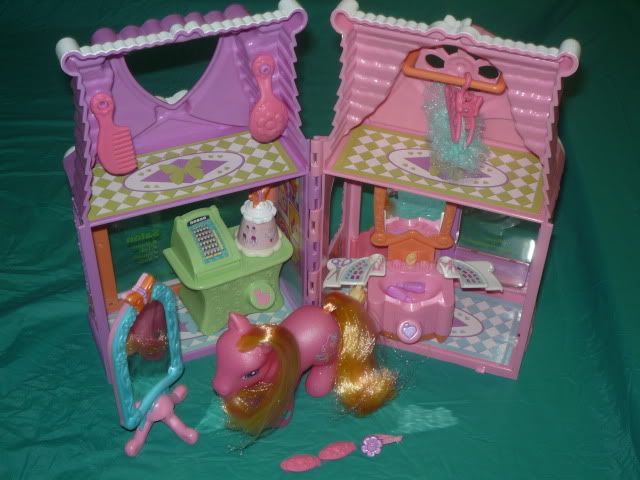 Celebration Salon with Amberlocks $10
Mint and complete
Skedoodle $3
MOC, card shows some wear
Applejack and Spring Fever MIP $10
Tiny Tins Rainbow Dash and Sweetberry $3 each
Mint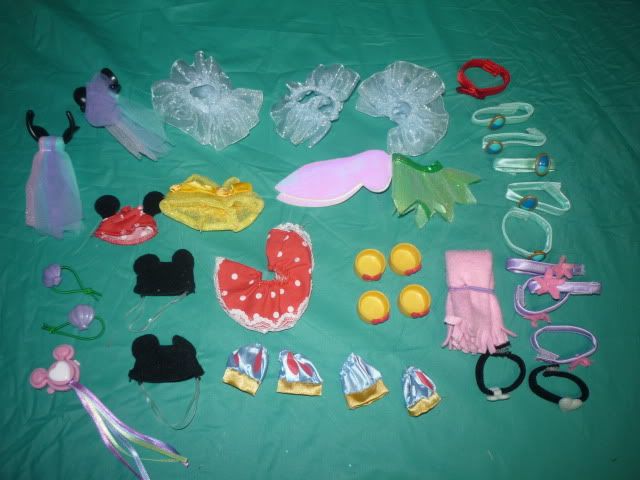 Disney Build-a-Pony Accessories
$0.25 each for headbands and hair elastics
$0.50 each for tiaras, hats, barrettes, blanket
$0.75 each for skirts
$1 for shoe or sleeve sets of 4
$2 for Tinker Bell dress
Negotiable if you want several things!
Non-MLP
Cheer Bear 10" plush $3
From 2003 or thereabouts, mint
She-Ra Crystal Swiftwind $3
Decent shape, light scratches around saddle area, soft hair
Grand Champions "Encore" $4
Some small scuff marks, cloudy paint on socks. With all tack, brush, ID card
Beanie Babies $1 each
All have tags except the giraffe, not gonna say they're mint but they're not played with either
Giant Lisa Frank sticker lot $4 shipped
Over 30 sheets, normal, prismatic, color-in, tons of characters (these are most likely from 1996-2000). Most are partially used, some are full, most of the used ones have over half of the stickers left. Includes LF \"sticker tote\"--basically a ripped paper envelope with the white yorkie on it but it holds the stickers. Price includes shipping within the US.
FREE* STUFF
*There is no limit on free stuff. Take it all if you like! PLEASE NOTE buyer pays shipping, and to help defray the cost of Paypal fees, packaging materials, gas, etc. I am asking for a handling fee of $1 per $10 worth of shipping. So if your item(s) costs $10 to ship, the fee is $1, if it costs $10.01-$20 the fee is $2, etc.

Peachy and Baby Cuddles 24-piece puzzle
Box in decent shape with average wear. Missing 2 pieces, possible moisture damage (pieces are kind of curvy).
Tails not available
McDonald's Daisyjo
Good shape, with basket
G2 Sundance CD-rom figure
NM-mint
A Charming Birthday VHS
Works, mail order version
The Last Unicorn VHS
Works, not 100% sure of quality but probably fine, does not have original case.
(tea party accessories not available)
Backpack only from Applejack set
Good shape
Carry case only from Luau and Sunshower set
Some price sticker residue and paint marks
Color & Iron-Ons Book
Color & Sticker Book
Pony Party softcover
Memory Game

NOT AVAILABLE


Sparkle Window Board Books set of 4

NOT AVAILABLE



Mint/unused
Various G3 pamphlets/inserts
PM for details