---
Also check out my auctions
Horsedreamer34
|
Violetwerewolf
| eBay[/URL]
If something doesn't sell on ebay, I'd be happy to sell it to someone on the forum for a reduced price. :yippie:
~*~*~*~*~*~*~*~*~*~*~*~*~*~*~*
Please send offers via PM's-I have alerts sent to my email so I can check them even if Im not around the forum. I have references here as well as a few forum members I have met in real life that could vouch for me.
For prices-since I have not been an active part of the community for some time, I am going off of what I remember or have seen the same piece go for. Prices on rare or HTF ponies are also influenced partly by what they are worth to me personally. So feel free to make an offer if my prices are way off.
Thanks for reading! Edit: I do take short term payments on these too- just ask!
Questor Star's photobucket sales album
Pictures are below, but here is a link to the album with more photos. Everything in this album is for sale. I will remove the photos once payment is received for an item.
Shipping:
Shipping in the USA is a standard $3 for one pony,
$4 for 2-3 ponies
$5 for 4-5 ponies
$6 for 5-6 ponies.
These prices include delivery confirmation.
For MIB items, (G3 and G4/FiM) I will debox them to save on shipping, but only after full payment is received.
I will ship internationally! Contact me for a quote.
HOLDS-
I cannot hold an item for more than 48 hours or two days. After that, if I have not received payment or heard back from you to make arrangements, the item will be relisted for sale.
PAYMENTS
-I can do short term payments on things-short term as in a month or less. I'm trying to pay for a very special new addition to another collection of mine. I require a 10% down payment that, if you change your mind later, and don't want the item, the 10% is non refundable.
**********************************************************
REGULAR PONIES FOR SALE____________
G1________________
PLAYSETS_____________________________
Dream Castle on ebay!!!
cgi.ebay.com/ws/eBayIS...0747240599
ACCESSORIES____________________________
$0.20 each for the G3 brushes, $2 on the bear brush, $1shooting star brush and pink flower pick, $0.20 each for everything else ? OBO
Birthday party pack cake pieces, cups and plates-$10 OBO-will not break up the set
MLP Brush-this is a human sized brush. I KNOW it is MLP because it came with a Diamond Dreams bubble bath and cologne set I had as a kid. I sold the cologne and bubble bath to someone here-if you are that person, PM me and I'll send you the brush for the cost of shipping!
If anyone else is interested, its $3
Ballet Book $4
Bed that goes with the Surprise Twins Mommy-$20 OBO-this took me forever to find. Rocking bassonet is included
yellow bed, 4 purple fence pieces and 1 purple trophy that went with the varient show stable. I had this as a kid, but I think the building got sold in a garage sale
:( No idea what they are worth, make an offer! I want more than $1 each.
Wave Dancer/ Wave Breaker-I have 3 of these somehow. The one in the shell is the best looking one, the other two are still in really great shape-$7 each-ONLY 1 LEFT!! SHELL IS *SOLD*
SS Best Wishes-This is probably the best one you will find, AND she comes with her party hat! She has some flocking rub on one ear-$15 for pony hat OBO
Flutter Pony Rose Dust-the photos dont show it, but she has very pink hair! $5
Merry Go Round Pony-$8
$4 Honeysuckle-repinked hair
G3____________________________________________________________________
$7 Newborn Cuties Cherry Blossom/Cherilee with bath tub
Book Fun at the Fair-$3
Mail Order Love Wishes MIP-$15
$25 Custom G3 Baby Gametime done by \"JS\"-I dont remember who JS is
$8 Yesterdaisy MOC
$3 Each-MISC G3's. I don know all their names-
Shenanigans -SOLD
Piccolo
Minty
Fair Weather
Golden Delicious
Spring Breeze-SOLD
$6 Spring Parade
$7 Wind Drifter MIB
$14 OBO Plush Singing Minty
$30 OBO Pinkie Pie's Playhouse MIB
-this is the one with lights and sounds-it is a house and I think it was TRU exclusive-it comes with some of the newborn G3 ponies. It is \"Pinkie Pie's Playhouse\"
G4____________________________
$7 MIB Fluttershy single with pet
$7 MIB Pinkie Pie single with pet
$7 Twilight Sparkle single with pet -loose or MIB your choice
BLIND BAG_____________
Glitter Pinkie Pie -asking $24, free shipping world wide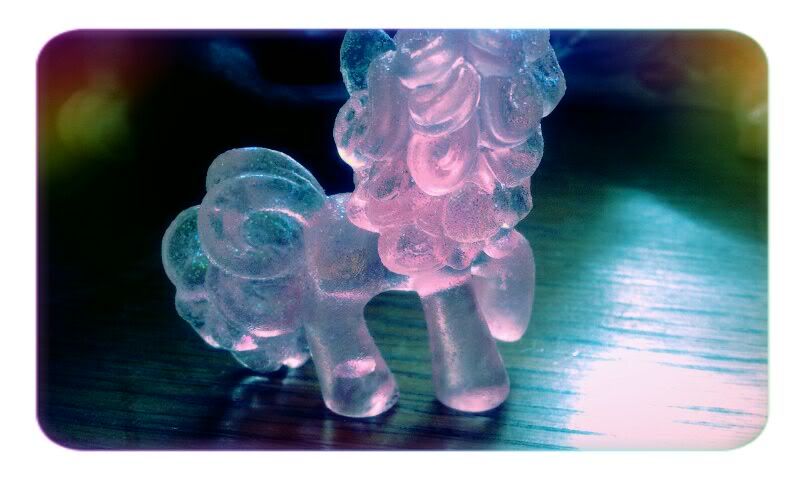 **************************************************************************
NON PONY SALES
Hey guys! Its time I start purging my toy collections. Last year I moved in with my significant other, and that means a 2 bedroom apartment, not a 5 bedroom house, so I don't have room for things I dont LOVE. I used to be a BAD pack rat, and I collected everything! So I have a little bit of everything for sale!
Important stuff:
I am in the US-so keep that in mind when purchasing if you are outside the US.
*I take paypal and money order-I'd prefer a money order. When sending paypal, please consider sending as a gift. Not required, but requested.
* Everything comes from a non smoking home
* If you don't like my prices, make an offer-something is only worth what someone else will pay for it-and if you wont pay that much, then its not worth that much I do need the money for them, but I also need to get this stuff gone!
Garfield plushies-$8 for the sitting one, $3 for the smaller one-$10 for both
Pooka shell necklace-$2
"When A Man Loves a Walnut" book of commonly misheard song lyrics-$2
Beaded mouse key chain I made as a kid-$2
Garfield DVD-A Cat and His Nerd-$4
Ty Beanie Buddy and Ty Plush collectors guides-$3 each or $5 for both
Vintage style Coke-a-Cola ad-$5 including shipping
Pocket sized Aladdin Storybook-$5 including shipping
TLK The Lion King sticker book-$8 including shipping
TLK The Lion King paint with water book-paint water on the pages and color shows up! $3 including shipping
Barbie/Kelly kitty cat-$3
TLK The Lion King camera-takes 110 film and AAA batteries-$20 OBO
Glittery snow globe dome-forget the name of the toy it goes to-$1
Small plastic horses-$0.50 each
fakie-$2
LPS-Beetoven's Pool Party-$22
Playful Sealion playset-$1.00
Barnum and Bailey plush Pink Circus Elephant-about 15"long-$8
v
Sigfried and Roy plush white tiger-about 7" long-$6
Ganz Bros, The Heritage Collection plush moose-$10
The Land Before Time plush Petry Pteradactyl-$10
J.R.R. Tolkein set of 3 books-Boxed set-Lord of The Rings Trilogy-$19
Animal Faire reindeer-two feet (24 inches) tall-$50 OBO
Large Plush Odie-soft and floppy-16 inches-$10
The English Teddy Bear Company black bear named Cumberland-$20 OBO
"My Little Pony" style yellow elephant-$8
101 Dalmations Disney vinyl/plastic wallet-$2
Chicken Plates by artist David Carter Brown-"On the Farm" -$28 for all 3 or $10 each
Donald Duck plastic cup-$3
Aladdin's Genie souvenir cup-$5
Dallas Cowboys Football sports cup-$7
Tommy Hilfiger's Tommy Girl perfume-$4
TY Plush Beanie Buddy Peanut the light blue elephant-$12
Plush Mufasa and Simba-13 inches tall-$25
FSF Fashion Star Filly Princess Anya-$40 OBO
18 inch tall hologram-manga anime Fruits Baskets-$10
Carousel horse water color original painting by Whippetluv-$8
Pink Barbie Horse "Marzipan"-$12
Yoshi's Island SNES players guide-$15
Webkinz Unicorn-code not used-$5
Metallica CD-still plays great-"Some kind of Monster"-$4
CDS__________________________
Mariah Carey-"Butterfly"CD ONLY $2
CD+ORIGINAL ARTWORK-$3 each
Edwin McCain-"Misguided Roses"
B*Witched-"Awake and Breathe"
Savage Garden-"Affirmation"
Craig David-"Born to do it"
Savage Garden-Truly Madly Deeply rare IMPORT-$10