I wouldn't know, but I believe you.
*huggles Paint Shop Pro 8*
*****
Okay, here is the shading segment of the tutorial. The amount and style of shading is totally up to the maker. If you need inspiration as to where the shadows go and the light areas go, take one of your plastic ponies and hold it near a light for ideas.
It can be a simple or as complicated as you feel comfortable with. More complex might be more visually appealing (or at least I think so), but it's also more time consuming.
That's a very key phrase with pixel adoptables - time consuming.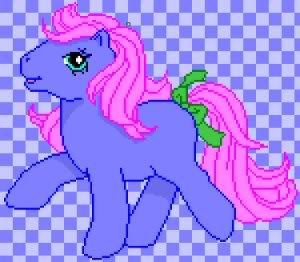 I've added just a tiny bit of shading on the body in this screen shot. Shadowy areas are typically under the belly, neck, and mane.
Here I've added a second, darker bit of shading to the pony.
This is a very simple level of shading, and yet it still looks appealing.
Now I get a little more complicated. (Just a little.)
Here's a few steps added. I've put shading not only under the belly, but down the back of the legs, too. I've also added some brighter colors, where our imaginary light source shines on the pony.
I'm not completely pleased with the shapes of the shadows and highlights, but it's adequate. Sometimes I spend quite a bit of time tweaking it all to try to make it look realistic as I can. Other times I say the [blank] with it!
Here's a quick peek at the wing and horn. It might not be easy to see in this screen shot, but there's a tad bit of shading and highlighting on those too. Not much is required.
Now then, I've passed a few steps and did the hair. You can see the little close up there. I've got four shades of color in the hair, plus the white areas to see how shiny it is.
You have as many levels of shading as you want. One, two, three million, whatever.
I typically go for four, but it's totally up to you. The white really makes the hair shiny.
This is more of a tip than an instruction:
I borrowed one of my other adoptables for this image. You can make the shading look smoother if you make this kind of checkerboard pattern (one pixel in size) along the edges, where one shade touches another.
Anyway....
Except for shading on the ribbon, I've finished the template I'm going to use over and over again. Which reminds me, you might want to make a backup copy of your template in case you accidentally overwrite it with someone's persona. It would be harder to work with it if your template suddenly looked like... erm... Sketch for example (picking on YLH here).
I speak from experience on this one.
Now I start replacing the colors again, like I demonstrated in the first post. I'll pick on Applejack again. You can see the color replacing tool only touched the one shade in my template.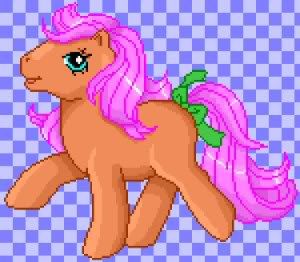 Here's a few steps along when I've replaced the darker blues with the darker oranges, and the light blue with light orange. Don't forget the outline, too.
And I did the hair and the eye too. I added the freckles. Doing symbols is a whole other post I think but it just involves shrinking it and putting it on the adoptable, in a nutshell. Or drawing it by hand. Or simply not making symbols at all - there's no one way to do things.
Here's what she looks like now:
-----
That basically covers how to make a pixel adoptable. If you like layers, you can make squiggly lines over the pony's feet and have a "boy pony" layer. I have the ribbon on a separate layer and I can take it off if I wanted to make a boy pony.
Good luck with all your adoptable making. If you are dying for more tips and instructions, you could probably find a million tutorials in places like DeviantArt. The sky's the limit.