I've resisted for a while, but I just decided to bite the bullet and start a serious collection. I'm sure this will be updated several times.
If you have these for sale, feel free to PM me. I can't buy ponies willy-nilly, as I have a partner who would kill me if I spent hundreds of dollars on ponies, but I do have disposable income and in most cases, I can purchase a few each month.
I will also trade artwork and customs!
I'm not a stickler on accessories or extreme minty quality unless mentioned, but I'd like to get ponies with no serious issues (like mold, cancer, regrind, or chews.) Hair loss is okay as I can fix that (except for Surprises.)
First: Surprise Army!
MINT or NEAR-MINT So Soft (I need a nicer one)
All 3 Argie Variants
Italian Surprise
Pearized Baby Surprise
Mexican Baby Surprise
Boy Pony Harem (accessories would be a plus, but not required)
Barnacle
Tex
Quarterback
Salty
Wigwam
Clipper
Waddles
Other G1s
ALL Sparkle Ponies.
I have none, and I want to collect the whole lot of 'em.
Molasses
Sea Flower
Streaky
Cha Cha SHS
Bright Eyes
Honeycomb and Baby Honeycomb
wanted VERY badly.
Rollerskates Ponies - Jazzie, Hip-Hop and Melodie
SS Truly
TAF Night Glider
TAF Munchy
Nirvanas
Argie Pequitas
Argie Gusty
Argie North Star
Argie Truly
Brazil Milky Way
White Colombian Applejack
G2s
HM Great Romance
HM Star
Globe Trotter (WITH ACCESSORIES)
- I REALLY, REALLY want this bad boy.
Diamond Glow
Golden Glow
G3's
Anchors Away
Sunny Salsa
Sunshine Blossom
Tropical Surprise
... and any G3 that you may know of with bright green/chartreuse hair!
G4
Fashion Style Applejack
Any and all Blind Bags, especially boys or AJ!
Thanks for reading

_________________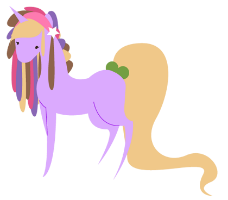 .:p
r
o
u
d
:.
I am your personal trainer and I will get you results.
¡El Blog! ♥ Wish List!
Desperately seeking G2 Globe Trotter's accessories!