Oh, wow! Stockings! This is my first Christmas with Stockings, every time I looked at her she made me smile! (Hugs, Xeevee!)
BrightEyes, I hope you liked everything for the last week- are you ok?
Juggaletta, I opened the one with wings, and needless to say I was surprised! Another fantastic custom! I love her hair! I think I've named her Fragiapani (or however you spell that)- I looked at her today, and thought "what should I call you?" and that's what popped into my head. Thank goodness I've never named any children! LOL! I used to have a cat named Wiffle Ball, because that was the first thing I saw when I was naming her.
So here she is- Fragiapani!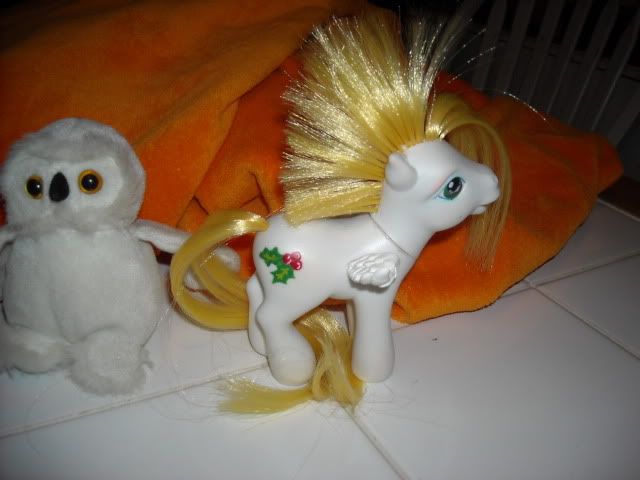 Of%20course%20the%20picture%20doesn't%20do%20her%20justice-%20I%20love%20her%20hair,%20it%20looks%20like%20a%20punk%20angel!%20
And%20here%20are%20a%20few%20of%20the%20things%20that%20I%20didn't%20get%20to%20mention%20or%20show%20before-%20there's%20a%20little%20white%20snowy%20owl%20on%20the%2024th,%20and%20the%20little%20tiger%20from%20some%20time%20before.%20I%20finally%20pulled%20him%20off%20my%20coat%20to%20take%20his%20picture!%20
It was an amazing Pony-filled Christmas- my nephew got me a t-shirt with Rainbow Dash that says "20% Cooler" and my neice got me Rarity and Flitterheart (I think- the one with the piggy!). I got a few more loose ponies, including g3.5 Mama Dash, and some adorable pony ornaments. It was more pony goodness than I've ever had at Christmas, sort of overwhelming!
Thank you so much for hosting again, Sternen! Sign me up for next year- I love this swap! There's so much love, and it lasts for months! And congrats to everyone for their fantastic packages!