Kay Iv been posting a lot lately, I hope I'm not annoying anyone xD but I just get very excited about pony stuff now (when on earth did that happen!?)
So some of you might remember the post i mentioned earlier, asking about your restoration equipment preferences. Well I took a lot of that to heart. Up until now Iv always only brushed and conditioned my ponies hair, Iv always been afraid to actually use an iron on there hair, but since so many people do it, I decided to get the courage and go for it. I bought a brand new flat iron with lots of heat settings. Its not a super awesome iron but its good enough, I also picked up a few combs/brushes.
So maybe your sick of seeing this particular pony of mine xD but its sort of been my labrat/pony so lets take a journey
(iv noticed iv also gotten better at taking pictures since i started coming here lol)
Stage one: this was how i pulled her out of the huge box when she came in the mail. the hair by her head was matted and the whole thing was just filthy (seriously the bit of water i used had turned kind dingy after the first wash)
after%20her%20first%20bath:%20
at%20least%20her%20hair%20was%20in%20order,%20but%20it%20was%20still%20pretty%20dry%20and%20puffy
bath%202:%20i%20left%20the%20conditioner%20in%20for%20quite%20a%20while.%20and%20its%20hard%20to%20tell%20but%20her%20hair%20is%20shinny%20now%20and%20a%20little%20smoother.%20(sorry%20the%20only%20pic%20i%20had%20was%20from%20my%20sales%20thread)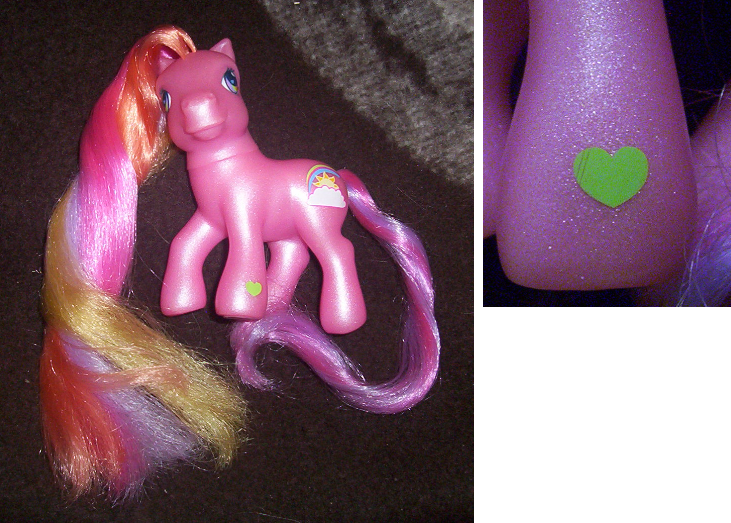 now%20after%20ironing%20for%20the%20first%20time%20ever.%20I%20used%20the%20lowest%20setting%20because%20i%20was%20still%20scared%20xD%20it%20still%20worked%20pretty%20well,%20her%20hair%20is%20no%20longer%20puffy,%20its%20smooth%20and%20very%20soft.%20i%20have%20yet%20to%20try%20fabric%20softener%20but%20that%20might%20be%20my%20next%20step.%20
iv%20learned%20quite%20a%20bit,%20and%20poor%20Rainbowflash%20has%20been%20there%20threw%20it%20all,%20luckily%20i%20didn't%20have%20any%20BAD%20experiences%20with%20experiments%20gone%20wrong%20on%20her.%20Shes%20still%20for%20sale%20and%20if%20she%20ever%20gets%20sold%20or%20traded%20then%20i%20might%20actually%20be%20a%20bit%20sad%20to%20see%20her%20go%20xD.%20Ill%20just%20have%20to%20find%20a%20very%20nice%20home%20for%20her%20:p.%20
After%20all%20that%20being%20said%20(gosh%20i%20know%20this%20is%20a%20supper%20long%20post%20D:)%20i%20was%20wondering%20what%20are%20you%20feelings%20or%20suggestions%20as%20to%20what%20I%20should%20do%20about%20my%20poor%20Rosedust?%20
she was my very first pony and I love her, but her hair is sooo dry that you can barley even tell that its still pink. Iv tried conditioning her hair multiple times, but nothing is doing any good..
on one side I dont want to loose the original curl, but on the other id really like to fix her hair. what should I do?! If i conditioned/softened and ironed do you think it would be possible for me to re-curl the hair? or is there a point were some ponies hair is just too dry to even iron? I'm at a loss guys. help me out.